Melanie Ratnam represents Canada at UN session on empowering women and girls through STEM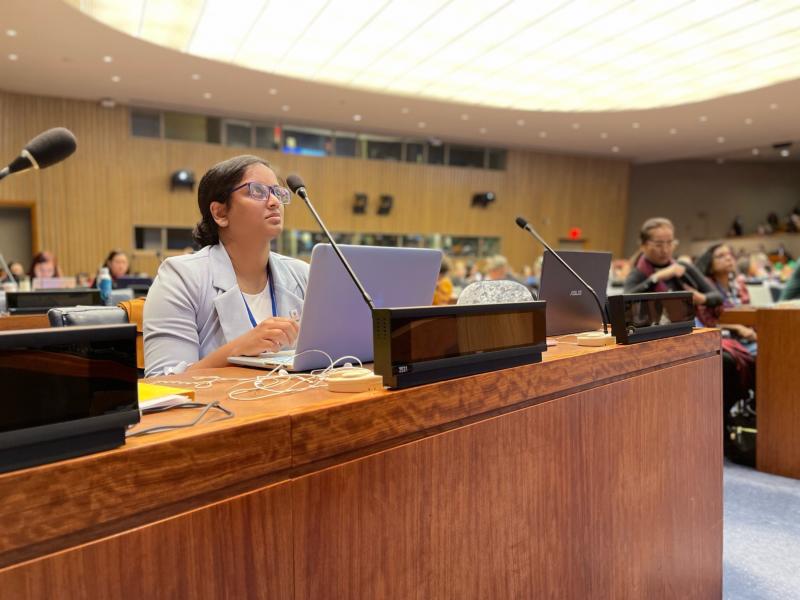 Melanie Ratnam attends the United Nations' annual Commission on the Status of Women session in New York. Photo courtesy Melanie Ratnam
When Melanie Ratnam (BSc 2007 UTSC, PhD 2018) mentors girls in elementary school, she often sees them discouraged by the lack of women in science, technology, engineering and math (STEM).
"STEM will lose out on talented women if we don't address the factors that deter them from pursuing these fields. It's crucial that we ensure all individuals, regardless of gender, have equal opportunities to succeed in STEM," says Ratnam, a U of T Scarborough alum.
Ratnam will be in New York for the next two weeks representing the Society for Canadian Women in Science and Technology (SCWIST). She's there as a member of the National Council of Women of Canada Delegation at the United Nations' annual Commission on the Status of Women session. This year's theme is close to her heart, with discussions focused on how innovation, technology and education in the digital age can be used to further gender equality and empower women and girls.
As humanity is faced with some of the biggest problems of our time, we need innovators, we need problem-solvers
"The digital space is shaping and changing our lives quite rapidly, look at innovations like ChatGPT," Ratnam says. "With things moving so quickly, we need to address the barriers that women and girls face, and address or we are going to exacerbate the gap."
Ratnam says lack of representation isn't the only barrier women and girls face to entering STEM fields — others come from gaps in public policies. As vice president and director of policy at SCWIST, Ratnam and a team are working on a digital tool to examine the policies across Canada that impact women in STEM, such as policies related to pay equity. The resource will help visualize both policy achievements and gaps that may create barriers.
A mentor, a leader and a CEO, Ratnam is the perfect spokesperson for women in STEM
Ratnam is also co-founder of Ultimate Science, a mentorship program running in Toronto and Scarborough elementary schools. She says the program "was developed on the premise that anyone can do science and that science is found in everything.
"Good science is essential, but it's also crucial to understand that creating real change requires the right policies in place, policies that serve the people and are inclusive," Ratnam says. "We hope to inspire the next generation of STEM leaders to not only pursue scientific excellence but also to champion policies that serve their communities."
Though she's a neuroscientist, Ratnam is no stranger to technology. Her foray into the field began when she finished her PhD at U of T Scarborough in 2018 with a thesis that examined cell inflammation occurring after a stroke. While working in a lab, she set out to develop software that could help streamline day-to-day inventory management, something she observed was overwhelming for many researchers, particularly those on a budget.
Good science is essential, but it's also crucial to understand that creating real change requires the right policies in place, policies that serve the people and are inclusive
That led her to found INDAGGO, a start-up dedicated to easing pain points for lab researchers. The service is in its beta testing phase and is being used by multiple labs, including ones at U of T Scarborough. Over the pandemic, the company pivoted to help healthcare providers coordinate donations of personal protective equipment.
She grew her company in The Hub, an entrepreneurial incubator at U of T Scarborough, where she now coaches other entrepreneurs, particularly those with businesses related to technology, life sciences and STEM, and hosts consulting sessions.
"I've always been excited to be a part of the vibrant start-up community at U of T Scarborough because the students and alum that walk through these doors are committed to solving problems," Ratnam says. "As humanity is faced with some of the biggest problems of our time, we need innovators, we need problem-solvers of all kinds."